Disclosure: This post contains affiliate links. That means that if you click on the link and then decide to buy the product, I will receive a percentage of the sale at no extra cost to you. My blog is about saving money and sustainability, so I only mention products that I personally use and find valuable.
For me sustainability and financial independence go hand in hand.
It's clear how you can stick to sustainable principles when it comes to saving and spending money. However there can be clashes when it comes to earning money.
Take my day job, for example. I sometimes travel for business, even if it is possible to do the meeting remotely. In my personal life however we haven't had a holiday involving air travel for five years.
What makes a side hustle eco-friendly?
When I started building additional income streams it was really important to me that they were environmentally sustainable. That means – for me – that they do one of the following things:
Create products that have a lower impact on the environment
Promote a more eco-friendly way of living
Deliver a service in a more eco-friendly way
Promote or enable a more circular economy 
Use sustainability expertise
You can skip to a section that interests you or navigate to a specific idea in the Table of Contents below.
Create products that have a lower/positive impact on the environment
Idea 1: Make eco-friendly physical products
If you enjoy crafts, you could start making objects using eco-friendly materials (that will biodegrade) and make sure that you are using recyclable or biodegradable packaging when sending them out.  A popular platform for this is Etsy, but don't rule out selling to local shops too.  
Ideas include:
Macrame wall or plant hangers
Jewellery made from wood veneer, like the ones below. You can learn how to make these in this tutorial, but you would need to invest in tools to make them – here they are made with a Cricut machine cutting wood veneer. From a sustainability perspective a lot of energy will go into making a Cricut machine so you could explore whether you could rent or borrow one (or buy one with a friend), at least at first.  
The key with creating an eco-friendly business based on physical products is to:
research the sustainability of the materials you are using to make sure that they can either be recycled or will biodegrade
ensure that you provide clear information about how to recycle or dispose of the materials
Researching materials
For example, let's say your craft business involves stickers. Stickers are usually made from some type of plastic (vinyl, polyester or polypropolene). They are not eco-friendly because they are made from a non-renewable resource – crude oil – and the process to make the plastic also has the potential to cause pollution.
Some plastics are worse than others. For example, the process of making PVC releases toxic chemicals. You can buy vinyl that is PVC free, which is sometimes marketed as eco-friendly.  Allthough the process of making this is less harmful, the material is still very difficult to recycle: you can't just put it in your household recycling.
Continuing on the sticker theme, a good alternative would be to choose paper or cellophane stickers, but the adhesive impacts the ability to recycle them.  If you choose a natural rubber adhesive, then these paper to cellophane stickers will eventually biodegrade, as long as they don't have a plastic film on them.  
Providing clear information to your buyers
Consumers are now more aware of "greenwashing" and more likely to scrutinise the materials used to be comfortable that the product is as "eco-friendly" as it says it is – which is great!  
This means giving a full breakdown of the materials used – I like this example from an Etsy sticker shop call Nutmeg Designs UK:
It's equally important to suggest to people how to dispose of items and any packaging.  For example, some materials, like Veg Ware, are sold as compostable, but they actually only break down in certain conditions. They won't break down if you put them in your food waste or landfill but need to be put back into a special recycling scheme.  
Specific information like "this will decompose in 6 months in your garden waste" or "take this to a place where you can recycle LDPE plastic, like major supermarkets" is really helpful. 
Saying clearly what the item is made of and how to dispose of it helps people make the best choices for their situation.  This is critical as each area provides different recycling services and not all "general rubbish" (your "black bin" in the UK) ends up in landfill. In some authorities it is incinerated.
Idea 2: Make reusable items
Another eco-friendly idea for physical products is to create items that are reusable and replace disposable alternatives, such as:
beeswax wraps (to use instead of clingfilm)
reusable sanitary pads 
face masks
To make this even more sustainable, you can use materials that would have otherwise gone into textile recycling. These could be offcuts of fabric from other sewing projects or cut offs from clothes that couldn't be repaired.
Promote a more eco-friendly way of living
All of these ideas below involve creating a content-based online business to share information that helps people to live more sustainably. The potential for monetization comes through: 
affiliate links (to eco-friendly products or services that you recommend)
brand partnerships (being commissioned by a brand to create content that promotes them)
monetisation of traffic (allowing an advertising scheme to place ads on your site)
Idea 3: Start a sustainable/sustainability blog
For me, running this blog is my main side hustle, in terms of the time I spend on it. Of course, sustainability is one of the key themes in the blog. By sharing what I've learnt about ways to save money (that also reduce carbon impact) or how to invest in a "greener" way, I hope that I can help other people to live a more eco-friendly lifestyle.
I also limit the negative impact this blog could have by having chosen a hosting provider which uses renewable energy to power its servers – Green Geeks (affiliate link).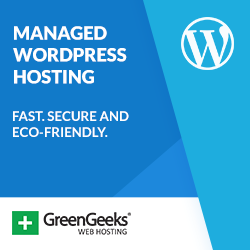 This is the provider I've used since I started my blog. If you are also thinking of starting a blog, or changing providers, I heartily recommend them. They are affordable and have excellent customer service (someone is at the end of the chat line 24 hours a day).  
How do you make money from a blog?
One of the main ways to monetise a blog is through hosting advertising on the blog through schemes like Google AdSense and Mediavine.  It can take some time to qualify for these and you need to also make sure that your site meets certain compliance criteria, like having a suitable privacy policy and also being transparent about any affiliate links it includes.
Mediavine tends to pay more than Google AdSense but they have a high requirement for the traffic that you need to be getting on the blog before they will consider your application. This is currently 50 000 sessions a month, with one session being a visit to the site by a user within a 30-minute time frame, so if the same user visits more than 30 minutes later, this counts as a new session.
Idea 4: Create a sustainability-focussed social media account
If you would like to create content in a different format then consider creating an account on a platform like Tik-Tok or Instagram.  You can make short form content such as posts or reels, although it's worth bearing in mind that impactful content can still take a lot of time to create. 
Ideas for eco-friendly niches for a social media content could be:
A food based account focussing on food waste hacks or plant-based cooking
A home renovation account focussing on upcycling
A beauty account focussing on zero-waste products
A travel account focussing on eco-friendly and ethical travel
The possibilities are endless but it's best to focus on something that you are passionate about as your authenticity will come across, it will be easier to generate ideas and you will also have the motivation to keep going.
With a social media account, you can't monetise traffic in the same way as a blog. You can however grow your followers which means that you are more likely to secure brand partnerships (and this also means more uptake of any affiliate links).  
If you do have a blog too, having a social media account for the blog can also be a good way to direct people to your blog, particularly when you post new content.
Idea 5: Start a sustainability-focussed YouTube Channel
Another content-based option is creating a channel on YouTube.  This is great for people who prefer speaking over writing, but can also be a great complement to having a blog as both the blog and channel can direct people to the other platform. 
Creating a channel will involve time upfront learning video editing skills (and probably being confident in front of a camera) too, but these are useful transferable skills anyway and people will connect to your personality rather than expect technical perfection from the start.
The advantage of the YouTube platform is that the algorithm helps to promote your content. Once you have reached 1000 subscribers and 4000 hours of "watch time" you can monetise your channel, so that adverts are placed on your channel and you receive income from this.
Idea 6: Start a bookshop on bookshop.org
Many people starting a content-based business get affiliate income through an Amazon Associates account, meaning that they receive an income from sales on Amazon after somebody follows a link from their site.   
Another option to consider, if you are promoting books, is to create an affiliate account with Bookshop.org.  You would still receive affiliate income from book sales you have referred, but these would be from independent bookshops.  This can be a complement to your online business, or you can just create your own bookshop.
This could be a great side hustle if you love books and curating selections of books on different themes. As an affiliate, you earn 10% of the book sale, so there is good potential to earn if you are directing large numbers of people to it who are likely to go on to read a book.  This could be a good way to get some income from an online reading club, without charging people to join. To see an example, my own bookshop for Home in the Green is here.
Promote or enable a more circular economy
The ideas coming up all support a circular economy. A circular economy is one where we maximise the value of items and minimise waste. This involves designing systems that reduce waster and reusing as much as possible, rather than focussing on recycling.
Idea 7: Upcycling secondhand furniture
If you are looking for something more hands-on, try upcycling. Sourcing unwanted pieces of furniture and repurposing them can keep things out of landfill and making you a little profit. Even if you don't have the skills already you can learn. There are many organisations which offer workshops on this (and there's always You Tube!). I live in Edinburgh, UK and The Remakery here runs courses on making, mending and upcycling. If you do have the skills, consider running your own workshops as well or creating your own YouTube channel. 
Idea 8: Setting up a tool library
If your local area doesn't already have a tool library then you could think about setting one up. Our local one works as a membership service where you pay a certain amount for a year (it's about £30). Whenever you need tools you can reserve them to pick up a few days later (and keep for about a week). 
To set one up you would need some space to store the tools, a website and quite a bit of time for admin. It's a labour of love, but could be a great way to create a community of like-minded individuals.
Idea 9: Selling secondhand books
Books aren't recyclable (the glue used to bind them means they need to go into landfill) so that's even more reason to keep them being used and enjoyed.
One way to sell secondhand books is through Ziffit – [update this with info from side hustle page].  These are then re-sold through World of Books, the world's largest online secondhand book retailer. 
Idea 10: Sell/Resell Clothes
Selling your clothes on platforms such as Vinted, eBay or Depop is, in my view, one of the best casual side hustles as you don't need to pay tax on earnings from selling things you have owned.  
If you have a few items to sell but don't want to deal with individual buyers, you could try Thrift+ (referral link). This site specialises in higher end high street or designer clothes. To sell your preloved clothes to them just request a free mailing bag in the post and then choose whether you would like your earnings to go fully to charity or whether you'd like to receive some of the value in vouchers. The vouchers can be used with a select group of retailers, including John Lewis, Oasis and Gymshark.
One drawback to Thrift+ is that you don't receive any credit until your item has sold.  
This is a good option if you want to clear a lot of items quickly and are ok with potentially earning less than if you sold the items yourself on eBay or similar. 
If you would also like to buy clothes through Thrift+ then if you go through my link you will get £5 off your first purchase. 
Idea 11: Selling other secondhand items via Twig
In a similar vein, there are many options for selling secondhand items (Gumtree, Facebook Marketplace) but one of the more interesting new options on the block is Twig (referral link). This app allows you to sell secondhand items directly to them (based on a market rate on their databases) and also supplies you with a debit card to withdraw or use the money, although you can also transfer it to a bank account.
At the time of updating this post (September 2022) Twig is offering a referral scheme awarding you £5 for signing up, activating your card and cashing out for the first time. To qualify for the bonus, please use this link or enter the referral code wintrytwig. 
Deliver a service in a more eco-friendly way
These ideas qualify as being "eco-friendly" because they are delivering a service in a less carbon intensive way than alternatives. 
Idea 12: Deliver takeaway/takeout by bike
Major food delivery services, such as Deliveroo and Uber Eats, pay employees to deliver by bike.  
Deliveroo riders earn on a "zero-hours" basis which means that the work is completely flexible, but you don't receive benefits such as paid holiday. Payment varies based on factors like the delivery distance, and payment is weekly unless you pay an additional charge to "cash out" earlier. 
Idea 13: Tutor online
If you offer a service, such as tutoring, online then you remove the need for people to travel to receive the same service.
A nice place to start if you're interested in teaching your native language, but don't have a qualification, is iTalki (affiliate link – get a free lesson). I've used this platform before as a learner. You can register as a "community teacher" which typically means you charge less than the teachers with qualifications. You set your own rates and can earn from £10-30 an hour (as a "community" or professional teacher.
Develop and Use Your Sustainability Expertise
Idea 14: Writing impact analyses for Impaakt
Impaakt run a free certification scheme that can equip you to earn around 30 euros per article writing short summaries of how major corporations are working towards the Sustainable Development Goals. The work is quite academic. You do need to do quite a bit of research and reference your sources, so suits people with writing experience. As well as being quite well paid, the advantage of this little earner is that the process will probably teach you a lot about the field, which could be valuable in itself if this is an area you do or would like to work in.
Idea 15: Deliver Climate Education Workshops 
Another great option if you are passionate about raising awareness about climate change is to train to be an En-ROADS facilitator. These are games and workshops that help people understand better what levers really make a difference in terms of addressing climate change. 
This does require some commitment upfront to take the (free) training and study the science and principles behind it. It's perfect if you already have some knowledge of sustainability issues from work or study. 
Once you've done the training you can run workshops (for example at universities or businesses), but would need to market these yourself and bill your customers. The organisation that created En-ROADS and provides the training is called Climate Interactive.  They say on their website that they are happy for the sessions to be delivered for a fee, but they do ask that a donation of 10% is made to them. 
Most profitable side hustle
Of these ideas, the ones with the greatest potential to earn are the online businesses, as they are scalable and also offer a route for passive income. However, it does take time to build a following and there's also a steep learning curve for creating good content and monetising it. 
If you already have a sustainability/education skillset, the En-ROADS training is a great option in terms of the potential hourly billing rate, as you could charge a business up to £1000 for a workshop, but you need to spend time promoting the service and developing relationships with customers, which might not fit in well with your "day job". Having some credibility in the space is also important.
Easiest to start
The easiest eco-friendly side hustle to start with is selling your old items, which could turn into re-selling for a profit once you figure out what sells well.
In terms of low start-up costs, a blog is a great idea as you only need to cover your hosting fees and domain registration, and many providers offer discounts for your first few years. In addition, it's lots of fun if you are writing about something you are interested in and it will also give you the chance to learn new digital skills.
Final thoughts on eco-friendly side hustles
So that's my round up of side hustle ideas for eco-warriors (and eco-worriers!). For me, side hustles aren't just about making extra money. They are about exploring your passions, linking in with like-minded people and learning new things. 
I hope that at least one of these ideas is helpful to somebody else. I'd also love to hear your ideas – I'm always on the lookout for a new project!